0173/2 Kavicsbánya Tó
Szigetszentmiklós, Hungary-2310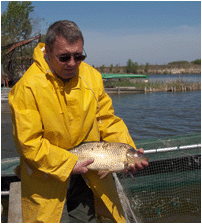 Don't hesitate, contact us!
+36 209 411 549

Our researches have focused primarily on the intensive fish production of various fish spicies in cagies. Here are a few examples:
producing different fish (carp, catfish) from larva solely on artificial food
producing nursery carp and catfish on artificial food in cagies
producing big carp within a two-year period on artificial food in poly-culture
producing and fattening catfish, trout, different Acipenser Sp., and sterlet, amur, silver cap, giebel, burbot in cagies, in poly-culture, on artificial food
developing methods of hydrobiologically maintainable fish production in cagies in gravel lake
developing different methods of fishing in deep lake
Our developments are on the feeding, fishing, medication of fish in cage-culture and the maintenance of fish production in the gravel lake (by the help of a special aeration method).