0173/2 Kavicsbánya Tó
Szigetszentmiklós, Hungary-2310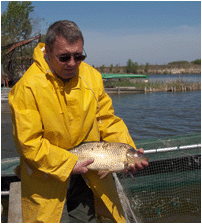 Don't hesitate, contact us!
+36 209 411 549

The roots of the company "HAL-INNO" stretch back to the beginning of the 1980s. It is located only three kilometers away from Budapest, at the Szigetszentmiklósi junction of the M0 beltway. HAL-INNOFISH Ltd. carries on the business of fishery on a 10 hectare, 6-7 meters deep gravel lake.
HAL-INNOFISH Ltd.
uses various technologies of fish production
has developed a novel fish storage technology that keeps fish active
produces fish in cagies intensively
stores active fish in cagies
exports and imports various products
wholesales and retails fish
does research and development mostly in the field of fish production and environment protection